A Walking Tour of the Center Street Cemetery
Note- To take this tour on your smart phone or tablet at the cemetery, go to https://conntours.oncell.com/en/index.html Click on Tours, then Town-based Tours; select Wallingford.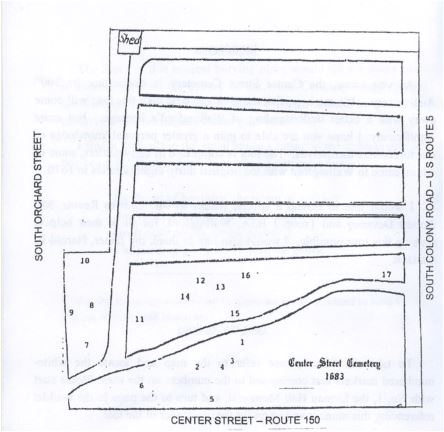 This map depicts the left side of the cemetery between the two main gravel roads.
Enter from the South Orchard St. Entrance. The numbers match the location of the grave sites listed below.
1. LYMAN HALL
— Prominent Person
2. ABRAHAM DOOLITTLE
–Original Settler
3. WILLIAM HOLT
—Original Settler
4. KATHERINE MILES
—Early Settler
5. REV. SAMUEL STREET
—Original Settler
6. MARY YALE
—Early Settler
7. JOHN MATTOON
—Early Settler
8. CAPT. CALEB ATWATER
—Early Settler
9. DEACON JOHN PECK
—Original Settler
10.a. NATHANIEL MERRIMAN
—Original Settler
b. CALEB MERRIMAN
—Early Settler
11. JOHN MOSS
—Original Settler
12. SAMUEL THORP
—Early Settler
13. REV. SAMUEL WHITTELSEY
–Early Settler
14. JOHN HALL
—Original Settler
15. DR. JOHN HULL
–Early Settler
16. REV. JAMES NOYES
–Early Settler
17 MOSES Y. BEACH
–Prominent Person

Scroll down to see information on each of the 17 persons listed above.
A WALKING TOUR OF THE CENTER STREET CEMETERY based on an Eagle project prepared by JAMES CARLSON of Wallingford Troop 1 BSA, Updated June 1, 2013
"As you may know, Center Street Cemetery celebrated its 300th Anniversary in 1983. It's my hope that those of you who take this tour will come away with a better understanding of Wallingford's heritage. But more significantly, I hope you are able to gain a greater personal knowledge of our forefathers themselves. The tour is comprised of early settlers, some of whom came to Wallingford with the original thirty-eight families in 1670. I would like to extend a special thanks to Mr. Charles Revoir, Mr. Robert Devaney and Troop 1 BSA, Wallingford, for all of their help in making this tour possible. I would also like to thank my father, Harold R. Carlson. Thank you."
James D. Carlson, BSA
Tour Instructions Please refer to the map above and locate the white-numbered markers on a wood post by the gravesites in the cemetery that correspond to the numbers on the map. Start with No. 1, the Lyman Hall Memorial and scroll down to the read description below. Then continue in the same way through the remainder of the tour to learn about some of the original, early and prominent settlers of Wallingford.
(1) Lyman Hall Lyman Hall was born April 12, 1724, in a small house on South Elm Street. He was the son of John and Mary Hall of Wallingford. Graduating from Yale College in 1747, he pursued theological studies under his Uncle, Rev. Samuel Hall, who was the first minister of the parish of Cheshire, Connecticut. In September 1749, he became minister of Stratfield Parish, now the First Congregational Church of Bridgeport, Connecticut, where he remained until June 1751. He then decided to study medicine and at the same time he was a school teacher in Fairfield. In 1757 he moved to Dorchester, South Carolina, where he practiced his profession. The following year he moved to southern Georgia. Here he became the leading physician in the town of Midway.
He became one of the hottest advocates of the rebellion against England, and in March of 1775, he was elected to the Continental Congress. As a member of this group, he represented Georgia as a signer of the Declaration of Independence. When he returned to Georgia after the war, he practiced medicine until 1783, at which time he was elected as the first postwar Governor of the State of Georgia. He was also one of the founders of the University of Georgia. Lyman Hall was married twice. His first wife was the daughter of Thaddeus Burr. His second wife was Mary Osborne. His only son, John, who died before him, was born of this marriage. Lyman Hall died on October 19, 1790. He was buried on a bluff overlooking the Savannah River. Later his body was moved to Augusta, Georgia, where it was buried in front of the City Hall.
A stone with engraved tablet was erected at his birthplace on South Elm Street on October 10, 1916. The original burial tablet, dedicated July 5, 1858, was rededicated September 18, 1983. Lyman Hall High School is named in his honor.
---
(2) Abraham Doolittle Abraham Doolittle was born in England in 1620. He had 11 children: Abraham, Elizabeth, Mary, John, Samuel, Joseph, Abigail, Ebenezer, Mary, Daniel, and Theophilus.
He took the freeman's oath in New Haven in 1644 and was made sheriff of the County of New Haven. He was one of the first to settle in Wallingford in 1670. Abraham Doolittle died August 11, 1690, at the age of 70. Abraham was the first Doolittle in the New World.
---
(3) William Holt
William Holt was born in England in 1600. He died in Wallingford September 1, 1683 at the age of 83. Mr. Holt's fieldstone marker is the oldest tombstone in the new Center Street Cemetery. It should be noted Mr. Holt was not the first person to die in the town of Wallingford. The name Hoult, as it was spelled in the early records, was the first of its kind in the New World.
---
(4) Katherine Miles
Katherine was the wife of Richard Miles. Katherine was born in England about 1592 and died in Wallingford in January of 1687, at the age of 95. Katherine was the mother of Major Thomas Miles and the grandmother of Anna, the wife of Rev. Samuel Street. The Miles family can be traced to John Miles, who came to New England in 1630. Katherine's husband, Richard Miles, died in New Haven in 1663.
(5) Rev. Samuel Street
Samuel Street, the son of Rev. Nicholas Street, was born in 1635 and graduated from Harvard College in 1664. The graduating class of 1664 numbered only seven. Mr. Street married Anna Miles of New Haven on November 3, 1664. They had seven children: Anna, Samuel, Mary, Susanna, Nicholas, Katherine, and Sarah. Rev. Street died January 16, 1717 at the age of 82. His wife Anna died in 1730 at the age of 91.
Mr. Street taught for ten years with his father at the Hopkins Grammar School. The school's object was to teach boys in the classics; Greek, Latin and Hebrew. Mr. Street, who was one of the founders of Wallingford, did not move here permanently until 1673 when he was installed as pastor. The pastor for the first two years was John Harriman of New Haven. It is believed his delay in coming to town was his insistence on suitable housing and a salary of 50 pounds per year. He was pastor for 45 years. When Rev. Street neared the end of his ministry, a committee was formed to search for a successor. They chose Rev. Samuel Whittlesey to be his colleague for the last years of his ministry.
As a permanent remembrance of this great man, his tombstone simply says:
"THE REVEREND MR. STREET DEPARTED THIS LIFE
JANUARY 16, 1717, AGED 82"
---
(6) Mary Yale
Mary Yale was the daughter of Capt. Thomas and Rebecca Yale. Mary was born August 27, 1684, and died in 1703 at the age of 19. Her father, Thomas, was one of the first settlers of Wallingford.
Capt. Thomas Yale was born in New Haven in 1647.
He was first married on December 11, 1667, to Rebecca Gibbards. After Rebecca's death, he married Sarah Nash, who died in 1716. He was married yet again to Mary Beach in 1716. He was a Justice of the Peace, Surveyor and moderator of town meetings for many years. Thomas died June 26, 1736.
---
(7) John Mattoon
John Mattoon was born in 1683. He was the son of Philip and Mary Mattoon, who also settled in Wallingford. They lived in the northeast part of the town. John Mattoon married Jerush Hall. He died February 19, 1754 and Jerush died September 28, 1760. They had nine children: Eleazer, Gershom, Ebenezer, David, Isaac, Nathaniel, Sarah, Mary, and John.
---
(8) Capt. Caleb Atwater
Capt. Caleb Atwater was born September 5, 1741. He was the son of Joshua and Sarah (Yale) Atwater. His first wife was Abigail Jones and his second wife was Ruth Wadsworth. There were eight children: Sarah, Mary, Lucy, Joshua, James, Abigail, Catharine, and Ruth.

Caleb was the grandson of John Atwater, who settled in Wallingford in 1682, and had a building lot on the east side of Main Street. Two of his houses, built in 1769 and 1779 on the northeast corner of Christian Street and North Elm Street, are still standing.
---
(9) John Peck
John Peck, the son of Deacon William Peck, was born about 1638. He married Mary, the daughter of John Moss, on November 3, 1664.

John was the brother of Rev. Jeremiah Peck, who was the first rector of Hopkins Grammar School in New Haven, a minister in Saybrook and a founder of Newark, New Jersey.

John probably came to Wallingford in 1668. In 1670 he received a house lot on the corner of High Street and North Main Street. John died in 1724, and Mary died in Wallingford in 1725. They had 10 children.
---
(10a.) Nathaniel Merriman
Nathaniel Merriman was born in England in 1613, came to this country in 1632 and was one of the founders of Wallingford in 1670. He served as town clerk, selectman and first selectman, representative to the General Court, magistrate, and Captain of the Train Band (local militia). He also served on many committees associated with the affairs of the town.

In 1649 Nathanial married Abigail Olney, daughter of William Olney of Killingworth, Connecticut. They had 10 children: Nathaniel, John (died young), Hannah, Abigail, Mary, John (father of Caleb below), Samuel, Caleb, a son (died young), and Elizabeth. Nathaniel Jr. was killed in a battle with Narragansett Indians in Rhode Island on December 19, 1675. After Abigail's death Nathaniel married Jane Lines of Hadley, Massachusetts in 1680.
Nathaniel died February 13, 1694, and either he did not have a gravestone or it disintegrated during the years since his burial. At a reunion held to commemorate Nathaniel's part in the founding and further development of Wallingford, his descendants dedicated his gravestone. They wanted something that was dark looking and similar to Caleb's stone, but not so old looking that it could be interpreted as a stone that was set when Nathaniel died. And they wanted simple lettering – similar to what his children might have selected. They did not put his date of birth on the stone, which is believed to be June 2, as it probably was not known at the time of his death.
---
(10b.) Caleb Merriman
Caleb Merriman, the son of John Merriman, was born April 24, 1707. He married Ruth Sedgwick, and together they had 10 children: Sarah, Mary, George, Elizabeth, Ruth, Jerusha, Abigail, Anne, Caleb (died young), and Caleb. Mr. Merriman died June 2, 1770, of small pox.

Caleb Merriman was the grandson of Capt. Nathaniel Merriman, noted above. Caleb's tombstone reads: "Under this Monument lieth inter'd the Remains of Caleb Merriman esqr Deacon of ye Ist Consociated Church of Christ in Wallingford who died of the Small Pox the 2nd Day of June A D 1770. In him the Widow lost a kind husband, the children a tender Father, the Church a liberal Benefactor, the Poor and Distressed a pittifull and ready Friend."
---
(11) John Moss John Moss was born in 1604 in Wallingford, England. He had two sons, Mercy and John. He died in 1707 at 103 years of age. As one of the original settlers of Wallingford, he was very active in the early years on its behalf. It is believed that he may have actually selected the name Wallingford.

There is a place on the east side of town known as Moss Rock, that some believe is named after John. It is located off Woodhouse Avenue, near the town soccer and ball fields. On a clear day, you can see New Haven Harbor.
---
(12) Samuel Thorp
Sergeant Samuel Thorp was born in 1644 and died in 1728. He was married to Mary (last name unknown). There were seven children: Elizabeth, Samuel, Hannah, Naormia, John, Samuel, and Hannah. His home was on the East Side of Wallingford near Muddy River. Muddy River at one point crosses West Dayton Hill Road, near Woodhouse Avenue.
Note – Cemetery stone shows "Tharp" however all records show the name as "Thorp."
---
(13) Rev. Samuel Whittelsey
Rev. Samuel Whittelsey was born in Saybrook, Connecticut, in 1676. He was the youngest son of John and Ruth Whittelsey. He had eight children: Samuel, Lois, Chauncey, Sarah, Elisha, Charles, Sarah, and Katherine.

Rev. Whittelsey was ordained in Wallingford as a colleague of Rev. Street. He completed nearly 42 years of his ministry when he died in 1752 at the age of 76. Whittelsey Avenue (2nd School) is named in his honor.
(14)  John Hall
John Hall, the son of John Hall, was born in New Haven in 1646.  Hel married Mary Parker in 1666 and they had nine children: Elizabeth, Daniel, Mary, Nathaniel, John, Linda, Samuel, Esther, and Caleb.

John was a Deacon of the Congregational Church and settled in Wallingford with the first settlers in 1670.  He died in 1721 at the age of 75. His wife Mary Parker Hall died September 22, 1725. Mary's stone is three stones to the right of John's headstone.
---
(15) Dr. John Hull
It is not quite certain whether John came from England, or was the son of Richard Hull of New Haven.

John moved to Stratford in 1661 as a farmer. John received a land grant in 1668 from Derby, Connecticut, and moved to Derby in 1675, where he became a very prominent businessman and builder. He was induced to come to Wallingford in 1687 with a land grant of 700 acres. Dr. Hull married for the first time in Stratford, name unknown. He married Mary Jones in 1672, and after her death he married Rebecca Turner in 1699. He had nine children: John, Sammuel, Mary, Joseph, Benjamin, Richard, Ebenezer, Jeremian, and Andrew. It is interesting to note that Mr. Hull was not referred to as a doctor until he came to Wallingford.

During the War of 1812, a direct descendant of Dr. Hull's, Captain Isaac Hull, distinguished himself by capturing the British Frigate Guerriere, while in command of the U.S.S. Constitution. This is significant because the HMS Guerriere was the first major unit of the Royal Navy to fall to an American ship. The U.S.S. Constitution is still a commissioned ship of the United Starts Navy and is on display in the Boston Navy Yard.
(16) Rev. James Noyes
Rev. James Noyes, son of Rev. John Noyes, was born in Stonington, Connecticut, August 4, 1764. James married Anna Holbrook of Derby, Connecticut, January 22, 1769. There were 14 children: Catharine, Anna, James, Mary, Sally, James, Cornelia, Ester, Abigail, Eunice, Joseph Fish, John, Catharine, and Harriet. Eight of the Noyes children died at a young age. Rev. Noyes died in Wallingford of lung fever on February 18, 1844, in his 80th year and his wife died January 1, 1838, at age 69.

Rev. Noyes graduated from Yale in 1782 and was ordained colleague pastor with Rev. James Dana, May 4, 1785, at the young age of 20 years. He went on to succeed Dr. Dana and served until 1832. In his 47 year ministry, Rev. Noyes only missed two Sabbaths because of ill health.

Rev. Noyes came from a long line of ministers and can be traced back to another James Noyes born in Choulderton, Wilshire, England in 1608.
(17)  Moses Yale Beach Moses Y. Beach was born January, 1800. He was the son of Moses and Lacerta Beach. Moses mother died when he was four months old,.  Due to his father being out of town on business much of the time, he was brought up for the most part by his stepmother. As an only son on a farm, he was expected to do chores at an early age as well as go to school.
When Moses was old enough, he moved to Hartford as an apprentice cabinet maker. He then moved to Northampton as a journeyman in his trade.
In 1835, Moses moved to New York, where he bought into the New York Sun for $5,200. The following year he bought the rest of the paper for $19,500. After buying the paper he found it was not profitable. He tried to sell it but was unable to get his price. Faced with being unable to sell, through his determination he was able to turn the business around and get out of debt within two years. Moses was also the pioneer of the penny press.
Moses died in 1868 at the age of 69. He had the largest estate in Wallingford at that time. Moses had eight children: Drusilla, Moses, Joseph, Mary, William, Alfred, Henry, and Eveline.
The school on North Main Street at the corner of Christian Street was named Moses Yale Beach School in his honor in 1750.
Referenced material used above
History of Wallingford — Charles Henry Stanley Davis, M.D.
Life of Lyman Hall — Judge Hubbard
From These Roots — Wallingford Bicentennial Commission
Wallingford Public Library
Wallingford Historical Society Photographs by John and Jessica Paiva from BSA Troop 1 Eagle Project by Alex Paiva called "We Will Never Forget."
===========================================
Wallingford's Ancient Burial Ground
The initials, age and date of death is the rule rudely cut by unpracticed hands on common fieldstones, the smooth iron stone being the favorite, and with reason, for the marks made upon them two hundred years ago are almost invariably as plain as if made but yesterday.
In 1670, provision was made for a "town burying ground," which we of this generation know as the Center Street Cemetery. For one hundred and fifty odd years there was only a narrow lane leading to it from the "Long Highway," as Main Street was called. The "burying ground" extended across what is now Center Street. During the excavation for cellars of some of the buildings on the north side of the street, many human bones were found, and during the digging of the street some parts of several human skeletons were found, over twelve feet beneath the surface.
Shakespeare in Hamlet has made the vocation of the grave digger forever famous, so it may be of interest to know that it was deemed of sufficient importance by the united wisdom of Wallingford, at the Town Meeting in May 1676, "To appoint William Ebnatha to dig the graves and the Selectmen to agree with him for his services."
December 14, 1676 the town also gave William Ebnatha liberty to "Require five shillings for every grave he makes for grown persons and two shillings for lesser persons."
The name Ebnatha is sometimes spelled on the records Ebernatho and is evidently a corruption of the old Scotch name Abernathy, made famous by the distinguished surgeon.
The first death in Wallingford was in 1673, an infant child of Elizur Peck. It is a singular circumstance that all the deaths recorded for the first two years of the settlement of the town were infant children.
Among the rest, this record appears: "Samuel Andrews twins borne 30th of May 1673 and dies 31st of May 1683." Nothing can give us a better idea of the hardships the first settlers were called to endure than the numerous deaths of those little innocents. None but a bereaved mother can realize the desolate hearts left by these brief "angel visits."
At the foot of a beautiful hawthorn tree is the oldest gravestone in the cemetery. It is inscribed "1683 – W. H. 73" and was erected to the memory of William Hoult who died in 1683 at the age of 83. In a series of articles appearing in the Wallingford Witness in 1886 I wrote more fully of these ancient stones, that up to that time were a mystery yet unsolved.
The second oldest stone is marked "K. M. 95 – 1687." It marks the burial place of Katherine Miles, who died at the age of 95 and who must have been 78 years old at the first settlement of the town.
Next in age is one marking the burial place of Abraham Doolittle, the founder of the Doolittle family and whose descendants today are numberless. It is a common fieldstone and is marked "A. D. 70 1690." Under the surface a short distance from this stone I found a fragment of tombstone that was marked "1710 A. D. 69." The literal quotation from the records in regard to the person whose memory was thus honored is "The Widow Abigel Dulitel died November 5 1710 aged 69 years."
Another common fieldstone marked "M. Y. 19 1703" is a memorial to Mary Yale, daughter of Thomas Yale, famous in the early history of Wallingford. One of the most interesting stones marks the burial place of Wallingford's first minister. It is thus inscribed: "The Reverant Mr. Street Departed This Life Jan ye 16 1717 Agged 82." This good man administered to the spiritual wants of the community for over forty years and the house the town ordered built for him in 1673 is still standing on South Main Street.
One of the three men in Wallingford at its settlement entitled to the prefix "Mr." attached to their names was Mr. John Moss, whose monument states he was born in 1604 and died in 1707, aged 103 years. It is a memorial to one of Wallingford's most prominent early settlers and first member of the Colony's General Court.
"Thomas Hall died Sept. 17 1711" appears on a small stone now nearly buried in the earth marking the resting place of Wallingford's first lawyer, as the old town records say, under date of 1678, "The town empowered Thomas Hall as their attorney to use all Lawful means for Recovering all Due Debts belonging to the town."
By the side of one of the winding avenues is a brownstone monument of a pretentious design inscribed "Doctor John Hull The first Physician who settled in Wallingford Died Dec. 6 1711 AE 80 years." To induce Dr. Hull to come here the inhabitants at a Town Meeting voted him a tract of land a mile square.
In the year 1740 it was voted "That ye burying place be fenced with a five rail fence with a good gate to it." Evidently the work was neglected, as in 1741 it was voted "To Fence the Burying Yard with a good rail fence, as much of it as is needful in Case the Society can purchase a highway to yt. the yard may enclose all the graves." Later in 1741 the committee was ordered to desist and up to the time of the Revolution no fence had been erected.
The Story of this ancient burying place would fill a volume as it is intertwined with the history of the town. Certainly every citizen of Wallingford, regardless of race or creed, should be proud to preserve it as a heritage to future generations.
I find it difficult in the small space allotted to me to do justice to this beautiful "God's Acre," a continual reminder that –
"The boast of heraldry, the pomp of a power
And all that beauty, all that wealth e'er gave
Await alike the inevitable hour,
The paths of glory lead but to the grave."
For the foregoing most valuable paper we are all indebted to John G. Phelan, our honored historian.